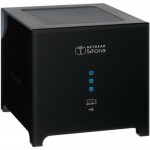 Having just got a Netgear Stora I wanted to use it as my time machine backup (I have an old ibook G4 and 10.5 so some of this may or may not work for 10.6 – i haven't tried it!). It turns out this isn't a simple operation (despite ease of use supposedly being a big selling feature of the Stora…). Here are the steps I eventually worked my way through to get this working:


Enable unsupported time machine devices. In the Mac terminal type:
defaults write com.apple.systempreferences TMShowUnsupportedNetworkVolumes 1
Enable "Computer Backups" on the Stora through the web interface – this is an option in preferences. Select a password and set the changes through "Submit"
Mount the share in finder by going to Finder -> Go -> Connect to Server. Use smb://ComputersBackup@Stora/ComputersBackup
Enter the password (username should be ComputersBackup)
Open up a terminal and create a "sparsebundle" image locally by following the steps below:

In a local directory run:
hdiutil create -library SPUD -size $SIZESPEC -fs HFS+ -type SPARSEBUNDLE $MACHINENAME_$MAC_ADDRESS.sparsebundle
where $SIZESPEC is the size (in bytes, or suffixed with g or t for Gigabytes and Terabytes – note you can resize it later, but you can't make it bigger than the space on your HD. $MACHINENAME is the 'name' of your machine and $MAC_ADDRESS is the mac address (seen in Network Preferences) in the form aabbccddeeff (i.e. no colons!).
Copy it to your network drive by typing
cp -r $MACHINENAME_$MAC_ADDRESS.sparsebundle /Volumes/ComputersBackup$/
you can now delete the local .sparsebundle file
Resize to the size of backup you want by running the following command on the network mount:
hdiutil resize -size $SIZEg $MACHINENAME_$MAC_ADDRESS.sparsebundle
where $SIZE is the size in GB (note the g after the size number
Load up time machine and select the ComputersBackup mount for backup. It should now detect the image and start backing up to it, using only the size of image that you have created (e.g. 200GB, rather than filling the entire drive!)

Pat yourself on the back get a cup of tea which it backs up and wonder why it wasn't easier!