As I no longer have any need for them I dug out my EasydsPIC4 and Microchip ICD2 (In Circuit Debugger) the other day and they have made their way to ebay. You can get the EasydsPIC4 development board/kit here SOLD and the Microchip In Circuit Debugger (ICD) 2 here SOLD. More info after the break…

MikroElektronika EasydsPIC4 Development Kit / Board for Microchip PIC devices
Included in this sale –
EasydsPIC4 Development kit/board
USB cable (board is USB powered)
'Easy Connect' expander
2 x 16 Character LCD (white on blue)
DIP devices –

2 x dsPIC30F4013 30I/P
3 x 16F818 I/P
3 x 16F872 I/SP
2 x 16F72 I/SP
1 x 16F84A 04/P
This board is in excellent condition and was used only for a short project I was involved with – new this board retails at $129.
It is a comprehensive development kit/board that allows simple development of Microchip PIC applications across a variety of devices.
It has everything you need for almost any project – character display, RS232 level shift/connector, ADC Vref, expansion ports, LEDs, keypad, integrated debug and programming.
More pictures and specific information (including manual and documentation downloads) can be found at here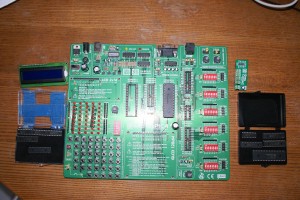 SOLD Microchip In Circuit Debugger (ICD 2)
Summary –
1 x Microchip ICD 2 device
1 x USB Cable
1 x Standard 'phone' ICD connection cable
This item is in excellent condition.